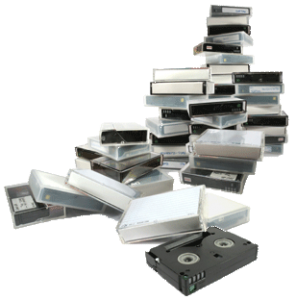 Let us convert your video tapes to DVD! Videotapes deteriorate over time and eventually your precious memories will be gone forever! Also, sooner or later, the players to view your tapes will no longer be available for purchase! Does anyone remember 8mm home movie projectors? Tape formats also don't offer the same lasting quality, convenience or preservation properties as the DVD.
Glynn Camera can convert most common consumer tape formats to DVD including: VHS, VHS-C, 8mm, HI 8mm, Digital 8mm tape and Mini-DV.
It's simple! Here's how it works:
Bring us your tapes. If you want them in some particular order please let us know! We will fit as much video as possible onto one DVD – up to 2 hours of video per DVD – DVD's CAN store up to 6 hours but at a much lower picture quality so we only use the 2 hour setting.
Video Tape to DVD Pricing
Transfer up to 2 Hours of video – $25.00 each for the first copy
Additional copies (of the same DVD) are only $10.00 each
Larger quantity prices can be negotiated.
We can also convert video content to a digital format for storage on an external hard drive, media drive, memory card or secure disc. Please ask us for a price quote!